CATEGORIES
LATEST NEWS
CONTACT US
ADD: NO.253,Economic-Technological Development Area,Guangzhou, China
TEL: 86-20-83831329
FAX: 86-20-83831391
E-mail: info@motor-chinese.com

> NEMA electric motor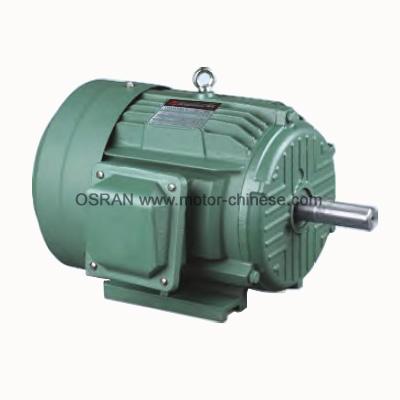 NEMA PREMIUM electric motor,NEMA EPACT motor,Single phase Three phase induction motor
Execution standard: NEMA PREMIUM of EPACT
Energy efficiency grade: NEMA PREMIUM
Frame size: H143~H586
Rated power: 1~500HP(0.75~370KW)
Product description: NEMA PREMIUM are three phase asychronous motors,Epact industrial motors,AC motor, induction motor,The premium efficiency motors are NEMA PREMIUM efficiency of NEMA EPACT.have NEMA Design B (Design A i
PRODUCT INTRODUCTION
1. PRODUCT INTRODUCTION OF NEMA PREMIUM ELECTRIC MOTOR
NEMA Premium series are 3 phase asychronous motors with totally enclosed fan cooled,are ac motors,INDUCTION MOTORs and industrial motors. The premium efficiency motors are developed by ourselves independently according to NEMA Premium Efficiency of NEMA EPACT. The output rated power and mounting dimensions of the motors are perfectly in accordance with NEMA. NEMA premium motors is reasonable structure, small vibration and low noise.
NEMA Premium series 3 phase asychronous motors can be widely used in blowers, ventilators, pumps, machine tools, compressor, reducers, packing machines, transportation machinery, mining equipment, construction equipment and other machines,which can operate with full load for a long time,the electrical motors can save the considerable electric energy,it is advantageous to protect the environment.
2. TECHNICAL FEATURES OF ELECTRIC MOTOR
1. AC 3 phase 60Hz 208-230/460V & 460V & 575V (Single Voltage only for 250HP and above)
2. NEMA Design B (Design A is available)
3. Efficiency Level:
1~200HP 2 Pole, 4 Pole, 6 Pole Premium efficiency motors meet NEMA-MG1-Table 12-12
250~500HP 2 Pole, 4 Pole, 6 Pole Epact efficiency motors meet NEMA-MG1-Table 12-11
3~350HP 8 Pole Epact efficiency motors meet NEMA-MG1-Table 12-11
JM/JP 2 Pole, 4 Pole, 6 Pole Premium efficiency motors meet NEMA-MG1-Table 12-12
4. Totally encloseed fan cooled (TEFC, IP55)
5. Service factor: 1.15
6. Class B temperature rise, Class F insulation with phenolic alkyd. VPI varnished with double times.
7. Oversize conduit box, rotatable in 90 degree.
8. Heavy duty construction, cast iron frame, bracket and conduit box.
9. Aluminum die cast squirrel cage rotor construction.
10. Bi-directional rotation.
11. Ambient temperature: 40 degree C.
12. Altitude: 3300 feet.
13. Paint colour: Lotus leaf green.
14. 143T~447T Shaft: 1045 carbon steel.
15. 449T~586/ 7T(UZ) Shaft: alloy steel and tempering treatment.
16. Stainless steel Nameplate.
17. F1 mounting (F2 is available)
18. NEMA Design D motors are high torque, high slip for high inertia loads.
19. Paint colour: White, F2 mounting.
20. PTC or PT100 thermistor is available to protect the winding and bearing.
Note: the inquiry or order need to indicate the electric motor model(including frame size, No. of poles, power, voltage) ,Mounting method, terminal box location(top/side).
If customers have special request for voltage,and other, can be mentioned in the inquiry or order.
3. MOUNTING OF ELECTRICAL MOTOR
T - The motors normally mounted with feet.
TC – The motors with (or without) feet and with C flange.
TD – The motors mounted with feet. Conform to standard MG1-403.